Another Wound Awareness Week, another winner!
Monday, 25 September 2023
Thanks to everyone who took part in Wound Awareness Week 2023 (4-10 September) – and what a week it was.

Whether you hosted a morning tea, shared a message on social media, held an education day, donated funds or continued the much-needed conversation about Australia's hard-to-heal wound problem in some other way, we're grateful for your support.

Here are some of the highlights.

Big Oozie Bake Offs around Australia
People baked up a storm at morning teas all over the country, raising funds and shining a spotlight on the issue of wounds, then sharing their photos in social media.

And the results were impressive! This year's creations included cake-based reproductions of the human brain, a stomach wound complete with fondant intestines, medical maggots, severed fingers, venous leg wounds, pressure injuries and necrotic wounds… proving that our members and supporters are not just skilled care professionals but accomplished bakers with a dark sense of humour, too.

These morning teas provide a great opportunity to support wound care professionals and celebrate the vital work they do, while raising funds and awareness.

Check out some of the best creations below.

Wound Forum, Canberra
We concluded Wound Awareness Week with a breakfast forum at Parliament House in Canberra, where the Hon Mark Butler MP, Minister for Health and Aged Care, congratulated Wounds Australia for its continued advocacy for Australians living with wounds, calling the recently announced Wound Consumables Scheme our 'brainchild'. Wound Awareness Week Ambassador Professor Fiona Wood AM gave a rousing speech in praise of skin and its many functions, and on the power of technological advances to improve wound healing.

And, with Western Australian Health Translation Network COO Dr Debra Thomas (pictured above with [L-R] Wounds Australia Board Chair Hayley Ryan and Minister Butler), we launched the new edition of the Australian Standards for Wound Prevention and Management.

Here are some of our favourite moments.

Pictured clockwise from top-left: Minister Mark Butler & Professor Fiona Wood; Hayley Ryan (Wounds Australia), Minister Butler & Dr Debra Thomas (WAHTN); Minister Butler, Professor Wood, Senator Jordon Steele-John & Dr Mike Freelander MP; Wound Champion Bella Fitzgibbon & Professor Wood.
Lunch Bytes online learning
Our 2023 theme, 'Let's get wound care RIGHT – the RIGHT diagnosis and the RIGHT treatment at the RIGHT time', pointed to the important place of education at the heart of improved wound care. Committed care professionals from around Australia joined our daily lunchtime learning series, Lunch Bytes, to learn from their peers and share insights from their own practice.

We looked at the benefits of a holistic approach by a multidisciplinary team in healing an extremely hard-to-heal wound, the power of lifestyle factors to influence healing, caring for wounds in ageing Australians and what getting wound care right looks like.

Best of all, our Lunch Bytes sessions were completely free to attend – and recordings are available from the Wound Awareness Week website.

Explore the webinars.

Consumer health campaign
An important part of getting wound care RIGHT is helping consumers understand when they should seek help – and where to go for good advice. Our consumer education video series with comedian and social advocate Nelly Thomas explored the wound warning signs and sources of reliable wound care advice in the community in a funny and relatable way. And the campaign was a terrific success, with social media posts reaching almost 100,000 people we would not normally reach and generating more than 1000 visits to the Wound Awareness Week website.

Check out video two – where NOT to go for wound care advice – below.



Here are some of the compliments we received online.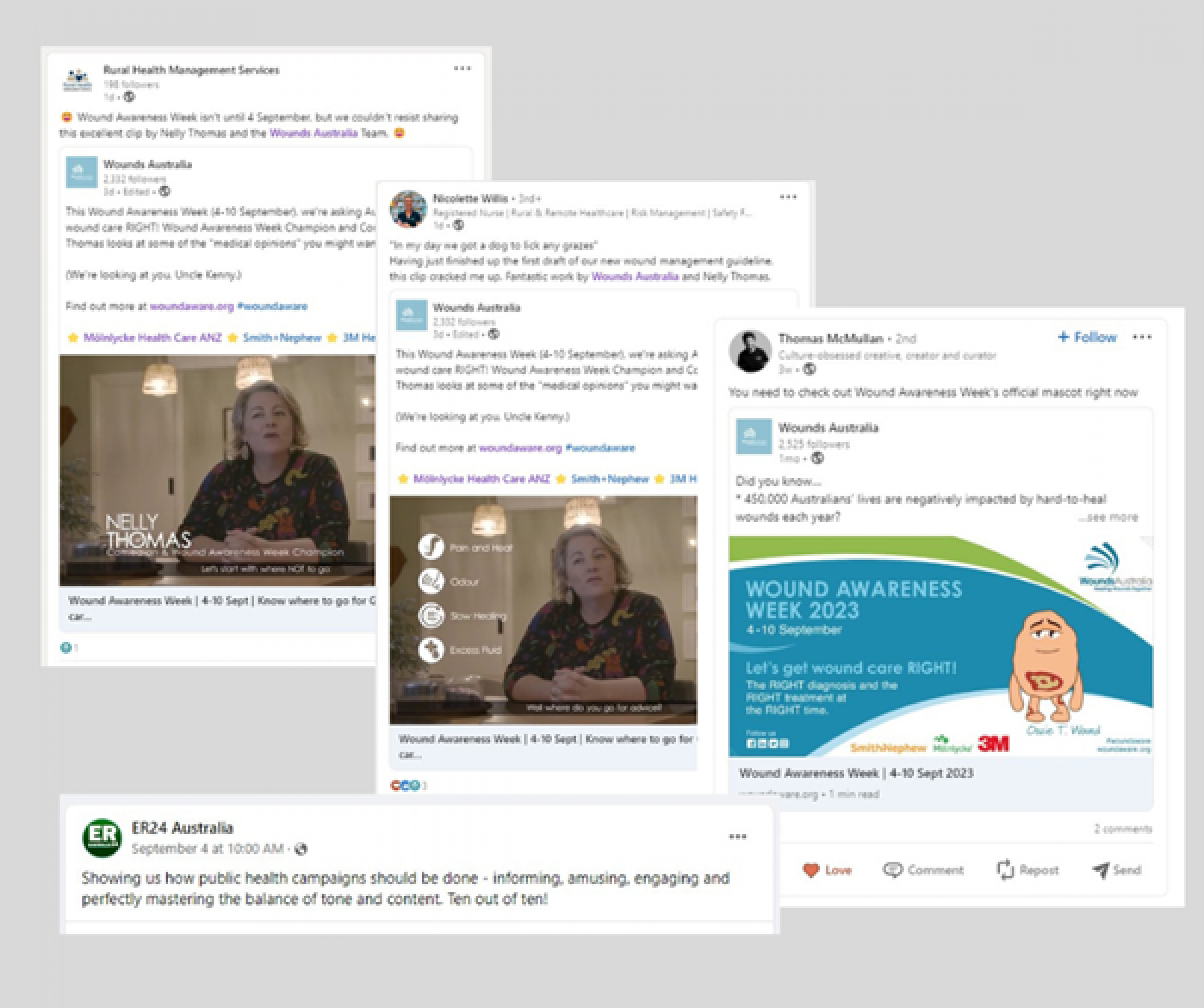 Our generous Partners
From factsheets to free webinars, our valued Wound Awareness Week Partners went the extra mile in 2023 to provide resources that would support care professionals in their daily practice. Explore them now.

Wound Awareness Week 2024 date reveal
Already planning next year's clever cake creation? The countdown to Wound Awareness Week 2024 is ON! Mark these dates in your diary: 2–8 September 2024.

Find more information on the Wound Awareness Week website: www.woundaware.org